How to Join?
Simply spend HK$10,000* or above by electronic payment (credit card, debit card or EPS) in a single day at ifc mall and register to become a CLUB
ic

member on the same day.

Lifetime

By invitation only

Black

Spending >HK$600,000

Platinum

Spending HK$300,000 – 599,999

Gold

Spending HK$150,000 – 299,999

Purple

Spending HK$10,000 – 149,999

Bring along your sales receipt(s) and corresponding electronic payment slip(s) issued by designated tenants in ifc mall to CLUB ic Lobby (U2, One International Finance Centre).
* Maximum two same-day sales receipts from two different shops, with each purchase of HK$100 or above and transactions made by the same Shopper using electronic payment (credit card, debit card or EPS). Spending in Apple Store, telecommunications services, banking and currency exchange services, car parks, Four Seasons Hotel, Four Seasons Place, store credits, purchase of cash and gift vouchers, store-value cards, any value added to store-value cards, online purchases and any transactions and payments made by cash are not eligible for CLUB
ic

membership registration.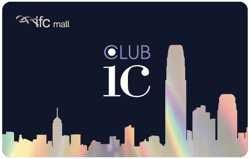 Contact
Service Hotline: (852) 2904 2199
Email: clubic@ifc.com.hk
CLUB
ic

LOBBY

U2, One International Finance Centre,
1 Harbour View Street, Central, Hong Kong
Service Hours: 10am – 8pm