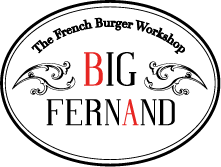 opening hours
11:00 – 22:00 Mon – Sun and Public Holidays
about
Big Fernand's project started thanks to three young French with very different backgrounds but who share the same passion for quality burgers. Steve Burggraf, Alexandre Auriac and Guillaume Pagliano met as they were planning to produce and act in hidden camera jokes for TV and online broadcasting. In 2011, when the wave of the American burger dish hit Paris, they decided to create their very own French burger bearing the French terroir and named it "Hamburgé".
CLUB ic Privileges

ifc mall Gift Voucher Accepting Tenant
Found the distinctive vegetarian option at ifc mall – Le Lucien featuring a Portobello mushroom patty!
Mr. Hanrahan – Works at Two ifc